Ultra precision machine elements
Development of an ultra precision positioning device named"walkingdrive"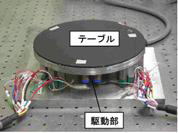 We developed a new driving principle called 'Walking drive', which is similar to the human's walking mechanism, and by utilizing piezoelectric actuators smooth feed motion and ultra precise positioning for long strokes can be realized. This device is targeted for ultra precisie alignment/press such as nano-imprint, WOW, and MEMS. We verified that this device is capable of both the load capacity of 1 ton and positioning resolution equal to the measurement resolution (10 nm).

Proposal of a new fluid bearing utilizing traveling wave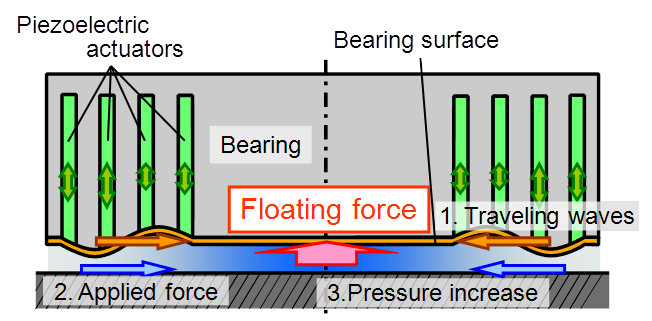 Non-contact bearings are being used in various devices in order to realize extremely low friction. In the present research, a fluid bearing which utilizes traveling waves is proposed. Traveling waves are generated radially from the outside to the inside on the bearing surface, and thus the fluid between the bearing surface and guide surface is compressed into the inside. Therefore, the pressure increase at the center of the bearing generates floating force so that the proposed bearing can support objects. Compared with the conventional air or hydrostatic bearings, the proposed bearing has advantages such as stiff tubes and large compressors are replaced by thin electric wires and small drivers, and the bearing has electrical controllability. Moreover, if the traveling waves are generated in the opposite direction, the proposed bearing can generate attractive force instead of floating force. Prototype bearings have been developed and its non-contact smooth motion is confirmed. The performance of the prototype bearings are evaluated experimentally and analytically.