Ultra precision machining and micromachining
Ultraprecision/micro machining by elliptical vibration cutting
Elliptical vibration cutting has been invented as an original cutting technology. As shown in the figure to the left, the tool edge is vibrated elliptically during the cutting process. The chip is intermittently extracted and pulled up during each vibration cycle. The nominal shear angle is increased, and consequently, the cutting force, energy, and heat are reduced significantly when compared with the ordinary cutting process. Although it is significantly difficult to apply the ordinary cutting to machining hardened steel and glass into mirror surface because of the rapid tool wear and brittle fracture of workpiece, the elliptical vibration cutting technique has been one of the solutions for ultra-precision machining of those difficult-to-cut materials. The research project includes the fundamental research about the analysis and measurement of elliptical vibration cutting process, the machining performance of difficult-to-cut materials including single crystal material and sintered material, and the machining of functional surface with micro/nano structures efficiently by elliptical vibration cutting technology. <!- 楕円振動切削と呼ぶ独創的な加工方法を考案し、その実用化を目的とした研究開発を行っている. 本手法では右図のように工具刃先を楕円振動させながら加工を行う。 断続的に切りくずを引き上げながら切削を行うため、通常切削に比べてせん断角が大きくなり、切削力・切削エネルギ・切削熱を小さくすることができる. また、通常切削では急激な工具摩耗や被削材の脆性破壊のため、実用的に不可能と考えられてきた焼入れ鋼やガラスの鏡面加工が可能となる. 現在、その切削プロセスの解析・計測に関する基礎研究や、単結晶材料や焼結材料など各種難削材料に対する応用、マイクロ/ナノスケールの機能性表面の高効率超精密加工などの研究を進めている. -->

Scultured surface machining by applying elliptical vibration cutting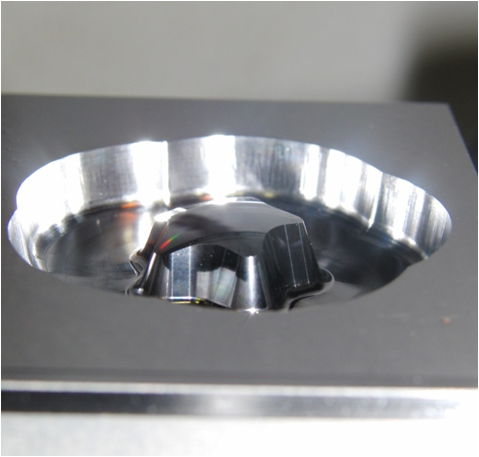 Elliptical vibration cutting can realize the mirror surface machining of hardened die steel. Thus it can eliminate the subsequent polishing process, which diminishes the machining accuracy, and enables to machine high precision and sharp-edged structures. However, in order to avoid the interference between the vibrated tool and workpiece, the machining shape has a restriction by the conventional 2-DOF elliptical vibrator and its control system. A new 3-DOF ultrasonic elliptical vibration tool, which can generate an arbitrary elliptical vibration in the 3D space, and its control system are being studied for realizing the three-dimensional free-form surface machining on die steel in practice. The developed system can realize the mirror surface machining of hardened die steel without the subsequent polishing process, and it is expected as a new manufacturing technology for precise dies and molds.

Modeling of the CMP process and development of high-precision analysis model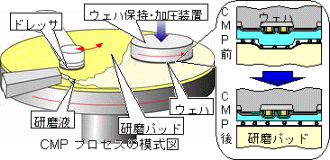 As one of the semiconductor manufacturing processes, a polishing technique called CMP(Chemical Mechanical Polishing) is being used in order to planarize the asperities generated on the surface of silicon wafers. This technique is essential in the production of highly integrated products, and thus performance improvement of polishing rate control and suppression of scratch is being desired. In this study, we have developed a polishing process analysis model using ALE finite element method, and we are developing high accurate analysis techniques which can estimate the effects of various conditions on the polishing process such as material properties, which is said to be difficult by the conventional technology. In addition, we are studying new technologies for process monitoring and control technology of polishing rate distribution.

Mass-producible rapid mixer based on Baker's transformation