Production system
Construction of the next generation production system by autonomous distributed scheduling

A production system is formed by the relation between the resources which it is composed of. In this research, we focus on the relation based on the transfer of products being manufactured and propose a new information exchange method which realizes the management of an autonomous distributed system by the resources themselves. The proposed method is examined mainly by the scheduling of resources, but it can also be applied to the optimization of supply chains between companies. Presently we are studying on the autonomous reconstruction of a system in order to correspond to the change of the environment such as the disorder of resources.

Generalization of the scheduling theory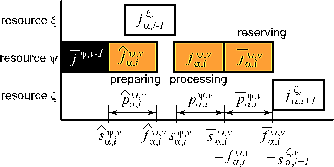 In addition to the preparation condition of resources, the reservation condition of products that are finished being operated is also considered in a schedule in order to correspond to a variety of problems which have not been recognized as scheduling problems. For example, a buffer, which has close relations with in-process inventory, can be considered in the schedule as a resource that does not add a value (which essentially means that it does not operate) to the product. As a result, the efficient usage of buffers, which means the reduction of inventory, can be examined at the same time. Besides this, the optimization of conveying paths and orders considering the interference of conveying equipment is also studied from the point of view of scheduling.